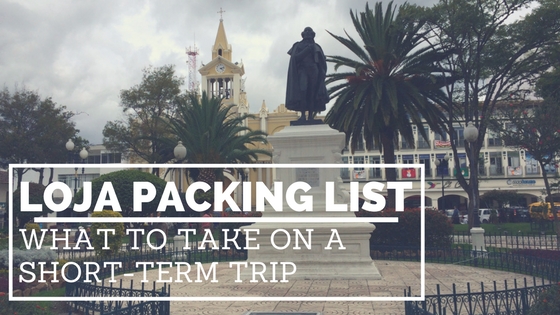 What to Pack for a Trip to Loja, Ecuador
Are you planning an exploratory trip to Loja and wondering what to pack?
I'm a nerd when it comes to packing. I've honed my skills over the years from my own multiple trips across the globe, beginning early in life as a child fugitive. I also have many good friends who are avid travelers, and we geek out on this topic.
More...
When Keith and I found out that his mom and sister would be coming down to visit us for a week in Loja, I created a packing list for them, and now I'd like to share it with you!
First, I'll share a set of basic packing principles I abide by when I travel, and then I will share my suggested packing list at the bottom of this post. I hope you find it helpful!
The Principles
1. Pack Light - NO Checked Luggage!
This is my #1 principle for many reasons.
First and foremost, traveling is far more enjoyable if you're not packing around two, three, or more large pieces of luggage.
Unless you live in a city with direct flights to Ecuador, you will likely have at least two or three different flights (your city to a city that flies to Ecuador, that city to Quito or Guayaquil, and, if you choose to fly, a final leg to Loja). If you choose to ride a bus from Quito or Guayaquil, packing light will be even more important.
Packing Principle #1. Pack Light - NO Checked Luggage!
When you need to get from the airport to the bus station, and then from the bus station to your accommodations, you don't want to have to carry 80 pounds of stuff, or try to figure out how to move it all when you only have two hands. Especially if you're planning a multi-city trip!
If you choose your items wisely and follow the other principles I outline below, you should be able to get everything on my packing list into a carry-on bag and one personal item.
Second, you will potentially save some money on checked bag fees.
Most airlines now charge at least $25 for the first checked bag, and sometimes even more for the second one. That could mean at least $50 to $100 round trip! Use a carry-on bag and save that money to do something fun in Ecuador!
Use a carry-on bag and save that money to do something fun in Ecuador!
Third, when you have all your luggage with you there is no risk of lost or delayed luggage.
On our previous trip to Ecuador, our first flight was delayed several hours. Thinking we had missed our connection, we approached the customer service agent at the intermediate airport to ask about alternate flights.
"The connecting flight is boarding now," she said. "You could make it if you ran, but your luggage wouldn't make it." She started to look up alternate flights.
"We didn't check anything," I said.
"That's all you have?" she asked, looking at our day packs and small duffel bags with wide eyes.
"Yep!"
"Run!"
And so we made it to Ecuador on our originally scheduled flights.
Do we always only travel with carry-on luggage? No, there are some exceptions to our rule. We are avid wilderness backpackers, so if we're planning a trip involving some backpacking and camping, there is not enough space in our carry-on luggage for our tent, sleeping bags, sleeping pads, mess kit, stove, water filter, and wilderness backpacks.
Also, some items, such as pocket knives, wouldn't make it through security in carry-on luggage. We've also checked bags to bring gifts to people in other countries. But in general, for the average trip, we never check a bag!
2. Use a Backpack
If you're physically able to use a backpack, you'll be able to get around much more easily. Ecuador's uneven streets and sidewalks could wreak havoc on your rolling luggage wheels. I have a Tortuga backpack and would recommend getting one of those or something similar. I like the Tortuga because it is built to the exact maximum dimensions for carry-on luggage for most major airlines (not the budget carriers), and it opens up like a suitcase which makes it much easier to access your stuff.
Here are a couple of highly-rated travel backpacks:
Tortuga Backpack - (Use my special promo code "TBE10" to get 10% off your order.)
"I like the Tortuga because it is built to the exact maximum dimensions for carry-on luggage for most major airlines (not the budget carriers), and it opens up like a suitcase which makes it much easier to access your stuff." - Lily
In addition to a backpack, I carry a "personal item" which is either a smaller backpack or my purse. Having a light day pack that you can use on the ground in Ecuador is really nice, and it's also nice to fill with snacks and entertainment and put under the seat in front of you for the flight down.
3. Pack for
One Week

Only!

Even if you're planning to spend three months in Ecuador, only bring the clothes you would wear for one week of travel.

You'll have easy access to laundry facilities in Loja. Many Airbnb apartments are equipped with washing machines, or you can drop off your clothes at a laundry service. These laundromats are common around the city. Simply drop off your clothes and for a few dollars you can have them washed, dried, and folded!

So just bring a few clothing items and then wash as needed.Here are a few more packing tips for clothing:
All your tops and bottoms should be neutral and/or interchangeable with each other to make the maximum number of outfit combinations. I.e., don't bring anything that clashes with anything else.
Lighter, fast-drying, wrinkle-resistant fabrics are best for travel, rather than heavy fabrics like denim. Fast-drying is important because even if you have a washing machine at your accommodations, dryers are rare. Also, you may want to quickly hand wash some items once in awhile between laundry days, and just hang them to dry. Synthetic fabrics dry much faster than cotton.
If you want to bring a pair of jeans, wear them on the plane rather than packing them because they take up lots more space in the luggage. Always wear your heaviest/bulkiest clothes on the flight! This includes your heaviest pants, your heaviest top, your jacket (nice to have anyway when they turn up that A/C), and your bulkiest shoes.
Leggings/skinny pants are very common in Loja for younger women, and casual trousers for older women. Jeans are also common for both men and women. Men also wear athletic pants or slacks. Remember that lighter, fast-drying fabrics are best.
Bring clothes you can layer. It can get pretty cool in Loja, but instead of packing a winter jacket that you probably won't wear, pack a rain jacket, a light jacket, and a sweatshirt. These items can be layered as needed over your regular clothes to adjust for the weather.
Don't bring shorts except to wear around the house or as pajamas. Men and women in Loja do not commonly wear shorts around town. Things are slowly changing, but it appears to be somewhat frowned upon for a woman to wear shorts unless she is exercising, and even then most women wear leggings. Capris are okay. Men wear shorts or athletic pants while exercising.
Roll your clothes. Fold your clothes lengthwise and then roll them up into a cylinder shape to pack them. You'll fit more clothes into less space!
"...only bring the clothes you would wear for one week of travel."
4. Don't Bring It "Just In Case"
Avoid bringing extra clothes and items you think you might need, because it's 90% certain you actually won't need them in Loja. Most essentials can be bought cheaply if you find yourself missing something. (Obviously there might be exceptions if you have a special medical condition or something. I like to carry a backup pair of hearing aids.)
5. Think Safety
Do not bring expensive jewelry or other things that make you look like a rich gringa or gringo, and be careful about flashing your expensive electronics in public while traveling in Ecuador. Many people in Ecuador have smartphones and tablets and carry them publicly, so not a huge deal, just be careful and aware of your surroundings because those are items that are more likely to get stolen.
Also, split up your cash and cards into different places on your person and in your luggage so that if anything gets lost or stolen you still have more elsewhere. Make copies of your passport to put in different bags and also leave a copy with a friend or store it in the cloud (online) so you can access it if anything ever happens to your original.
For the record, we've never had a problem in Ecuador with anything being stolen and it is quite a safe country. We have found most people in Loja to be extremely honest. It's just a good idea to be careful and aware of your surroundings, just as you would be in any big city in the US or anywhere else. Petty theft is definitely more common in Latin America than in the US, but violent crime is rare.
6. Simplify
Avoid bringing anything huge like hair dryers, irons, etc., unless it fits comfortably into your carry-on bag after packing everything else. Many women in Ecuador just let their hair air dry, and if you pack wrinkle-free clothes you won't need an iron. If you really need one of these types of items, bring a travel-sized one, and if you're traveling with others, coordinate with each other and just bring one to share.
The Loja Packing List
Here is what I suggest you bring on your trip to Loja:
Passport
Cash, in $5, $10, and $20 bills (no need to exchange as they use the US dollar) $300 or $400 should be plenty for a few days to a couple of weeks depending on your spending habits and whether you have prepaid for your lodging. ATMs are plentiful.
Debit and credit cards. (You might want to call your banks before leaving and let them know you're traveling to Ecuador so they don't lock your cards if you use them abroad. It happens sometimes.)
Light jacket
Buff (versatile and great for especially cool and windy days. Keep your ears or neck warm, stuff your light jacket or some clothes into it to use as a pillow, use it as an eye mask while on the plane if you're trying to sleep, etc. I never go anywhere without mine anymore. CLICK HERE to see them on Amazon.)
Rain jacket (I like the ones made by Marmot--CLICK HERE to see some on Amazon)
1 light sweatshirt
Swimsuit
Comfortable shoes for walking/hiking
1 nice outfit + 1 nice pair of shoes if you plan to attend any events, such as the symphony (Ecuadorians tend to dress up for concerts, etc.)
2-3 pairs of comfortable pants, max.
4-6 tops, max.
Socks and underwear, 5-7 pairs each, max.
Any medications and supplements you'll need during the trip, plus glasses or contacts, hearing aids + spare batteries, etc., as needed.
Basic essential toiletries & basic makeup, travel-sized. Essentials only! You can buy shampoo & conditioner in Ecuador, so no need to bring more than a small amount for the first day or two. It may be good to bring a travel-sized bottle of sunscreen as it is fairly expensive in Ecuador, and maybe also a small bottle of hand sanitizer since often the bathrooms aren't equipped with soap.
One water bottle (remember to empty it before going through security, then fill it up on the other side so you can stay hydrated on the flight and when you first land in Ecuador). I like Platypus water bottles because they fold flat in my luggage when they're empty! CLICK HERE to see on Amazon.
Small umbrella or rain poncho (it rains often). Or just get an umbrella in Loja for about $4.
Baseball hat or sun hat.
Sunglasses.
Smartphone so you can connect to wifi and check email, Facebook, etc. and/or listen to music, whatever, plus be able to make calls from US airports before/after Ecuador and take pictures while here (or bring a camera as well). Don't forget the charger cable. (NOTE: If your phone is unlocked [contact your cell phone provider to find out and/or to ask them to unlock it] you could buy a local SIM card (about $5 from Movistar, + $2-$3 to put some minutes and "megas," or data onto it) when you land in Ecuador. If you speak Spanish, having a local number can be convenient, plus a data plan comes in handy for Google maps, Google Translate, etc.)
One book, magazine, or e-reader to entertain yourself on the flight and during your down time in Ecuador. (Consider my book, Live Like a Local in Loja, if you haven't already read it!)
One light zippable tote bag or day pack (depending on what you would rather carry around all day) that you can use as your "personal item" while flying to carry your book, phone, water bottle, snacks, etc, and then use around town and on walks, etc. when you arrive. (I've used the Sea to Summit day pack for years and it's a great high-quality ultralight option! Check it out on Amazon HERE.)
Small Sawyer water filter if you're worried about access to drinking water and don't want to contaminate the environment with multiple disposable water bottles! (See it on Amazon HERE.)
Would you like a handy printer-friendly PDF version of this packing list? CLICK HERE to have it sent straight to your inbox!
I hope this list is helpful. You'll need to tweak it a little for your own needs, but this is basically all most people would need for a few weeks in Ecuador.
Do you have a must-have gadget you like to travel with? (Mine is my buff!) Anything you usually pack but never use? Share your packing tips and stories in the comments below!​
Learn the Joys of Living Like a Local!
Enter your name and e-mail for updates on Loja and Ecuador!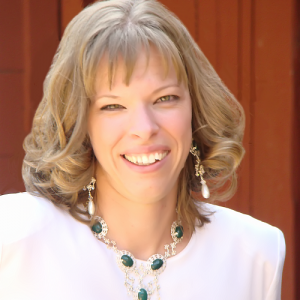 My husband and I are nomads, having lived in over a dozen U.S. states, plus Mexico, Antarctica, and Ecuador. I write. I recently released the 2nd edition of my 2nd book, "Live Like a Local in Loja," and I'm looking for a publisher for my third book, "Seven Years Running"--the true story of my fugitive childhood.