A Woman Pursues Ecuadorian Residency in Loja
When I found out we would be returning to Loja (unexpectedly, see 2016 Holiday Letter), I downloaded The Visa Chase and Other Fun Stories of Ecuador, by Diana Cevallos to my Kindle.  Diana is an expat from the United States who has been living in Ecuador since 2011 and in Loja since 2012.  She spent the first few years trying to obtain Ecuadorian residency visas for herself and her son.  I had interviewed Diana for my book, Live Like a Local in Loja. She has a wealth of knowledge about the city of Loja and culture of Ecuador.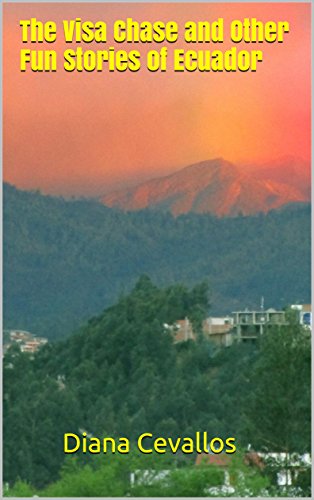 Diana's 81-page book reads like a novel. I couldn't put it down. The background of what brought Diana and her son to Ecuador made me want to cry.  I saw some parallels to our own story, the subject of my upcoming book, Seven Years Running.  Several funny stories in her long journey to obtain Ecuadorian residency made me laugh out loud! The stories are well told, with each chapter ending on a cliffhanger that made me want to keep reading all the way up to the upbeat ending.
When I finished, I insisted that Keith read it, too. He started reading it one morning, and then we needed to go shopping. When I suggested we run a few additional errands while in town, Keith said, "I want to get back home and finish Diana's book!"
The Visa Chase is not a "how to" book on obtaining a visa, but the stories do provide real insight into the Ecuadorian government agencies, the expat community in Ecuador, Ecuadorian culture, and, of particular interest to my readers, life in Loja. Readers will be enlightened as to the good, the bad, and the ugly of starting a new life in Ecuador. Anybody contemplating a move to Ecuador, and especially to Loja, should read this book!
You'll be swept into the book right away with the story of mystery and tragedy surrounding the kidnapping of Diana's daughter. Stories of encounters with expats and locals as Diana and her son settle into Ecuador will cause frustration and delight, and through the book you'll ride the roller coaster of hope and despair as they try, try, and try again to obtain those elusive Ecuadorian residency visas, flying around the country and even sneaking across borders in the attempt.
Anybody who has read and enjoyed my book, Live Like a Local in Loja, will really enjoy Diana's book, too. Also, if you're awaiting the publication of my upcoming book, Seven Years Running, you have to check out Diana's story. Whether or not you have an interest in moving to Ecuador, you will find Diana's book to be a quick, easy, and entertaining book for a pleasant afternoon of reading. I highly recommend The Visa Chase and Other Fun Stories of Ecuador!  CLICK HERE to pick up the Kindle book right now!
P.S. Please leave Diana a nice review if you like her book. Positive reviews on Amazon really help when an author is trying to get their book out there!
Learn the Joys of Living Like a Local!
Enter your name and e-mail for updates on Loja and Ecuador!