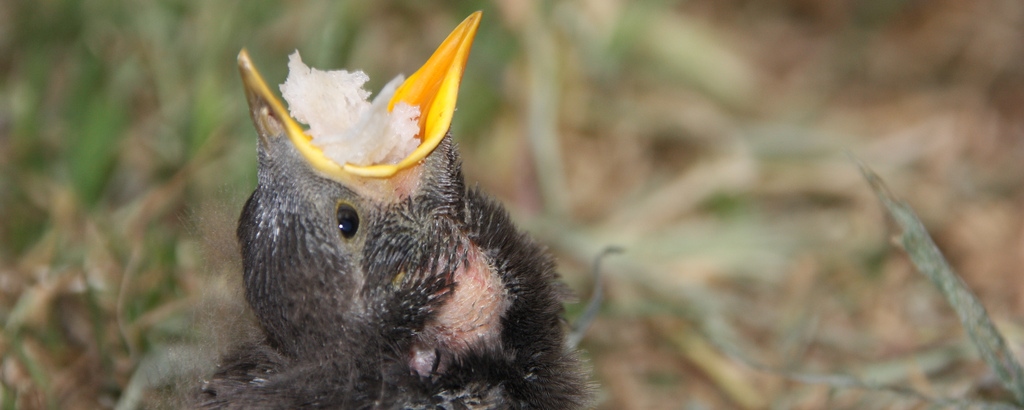 The Stella Diaries: Weeks 2 and 3
My little Stella grew so fast! Since Mrs. Wolf, the master teacher in the classroom where I student taught, was uncomfortable with me bringing the bird to school, John volunteered to take over Stella's care for a few days. Here are another couple of weeks' worth of e-mail exchanges between me and John (the illustrator of Stella the Starling) about Stella's development:
Stella: Weeks 2 and 3
Wednesday, May 17, 2000
So how's the darlin' starlin' doin'? Feels weird to not have her. Thank you so much for being willing to take her for a few days! I think any damage to be done by having her has already been done, unfortunately, but it could potentially help a lot, especially if I end up having a lengthy meeting after school tomorrow; I won't feel pressured to wrap it up so I can get out to feed the baby.
John replied: The baby is so very cute. I fed her once more tonight. She was hiding under her "covers" when I brought her in. I think this weekend we should have her out as much as possible, and perching all over us. Even in the car-just make sure the person holding her has a paper towel underneath!
Monday, May 22, 2000
How is little Stella doing? Is she eating on her own yet??? I hope she doesn't cause you too much trouble. I feel guilty having you take care of her.
John wrote: Stella is so cute. Fed her mainly scrambled eggs today and she is taking big night crawlers WHOLE. Quite comical to watch her gulp them down! Don't feel guilty! I like taking care of her. I put her in another cage for the time being and she seems much happier. I put a little bell and a plastic plant in there for her to play with. Tomorrow I might try getting some canned corn to put in a dish in there for her to pick at. Also I'll put a dish in there with egg.
I'm glad you're enjoying her. I'm missing out, man! I sure wish she weren't such a thorn in Mrs. Wolf's side. I like the other first grade teacher down the hall–I was on recess duty with her today and she was telling me about the butterflies in her room. She lost almost all of them for some reason–they came out deformed. She mentioned that she'd thought of giving them to me for my bird. I told her how fast Stella was growing and she looked really surprised. She had come in once and saw her when she was still featherless and being fed every hour. She really liked her. I told her I was keeping her as a pet and she looked excited about it. Now why can't Mrs. Wolf be excited about my bird like that???? Ha. It sounds like Stella is going to be a great pet.
I'm glad you're enjoying her. I'm missing out, man!
Tuesday, May 23, 2000
John wrote: Hi, Stella seems to be doing fine this evening. Still not eating on own. I got her a toy today at NW Seed.
I'm glad to hear she's doing well! So she's so cute you couldn't resist spoiling her with toys, eh? Thank you, I'm sure she'll enjoy it! It'll keep her from getting bored.
Thursday, May 25, 2000
John wrote: Stella seems to have developed a significant cough/sneeze which she is doing a lot. Seems to have increased overnight. I hope it is not serious. I will put ambrotose in her drinking water today. I have yet to see her take a drink. I really hope this is nothing serious. I'm talking like every three minutes she does it. It is a mystery.
Oh, dear. How is she doing tonight? Is she eating on her own better yet? She was so darn cute last night at Audrey's! I had to laugh at Audrey when I pointed at Stella while she was doing something cute and said, "Oh, isn't she CUTE??" and Audrey replied, "Get a life." Haha!
Back to 2015…
More stories from the past coming up! Keep watching…
Photo credit: A. Sparrow (flickr).
Did you know I write books?
Just sign up below for free excerpts and updates about my latest book!