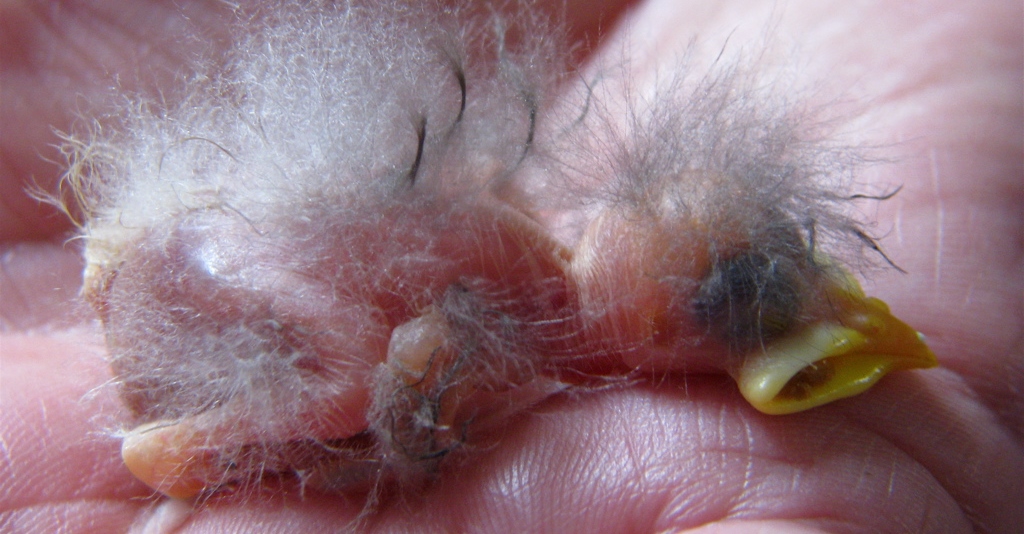 The Stella Diaries: The First Week
I'm so excited that my children's book, Stella the Starling, based on a real-life wild European Starling that I hand-raised, is finally out! Writing that story brought back many memories. I went hunting through my computer e-mail archives and found quite a few detailed messages that I had sent to my friend and fellow bird enthusiast, John Kilmer (the illustrator of Stella the Starling who was with me when I found Stella, and very interested and involved in her development), about the process of raising her. Over the next few posts I'll share some excerpts from "The Stella Diaries." Enjoy these bonus, unpublished stories about Stella the Starling!
Stella: The First Week
Sunday, May 7, 2000
Note: It was this morning that I was out for a walk with John, and we found the baby bird. In the evening I e-mailed him:
Motherhood! Difficult work, for sure. But rewarding! This baby is SOOOOO cute! I have been feeding her about every 1/2 hour. I can tell this baby is going to be a lot of work, but I think in the end it will be worth it.
I am so looking forward to having a talking starling! I haven't quite decided yet what I want to name her or what I want to teach her. The baby is already showing signs of opening her eyes, even within the hours since we found her. There are little open slits now; I expect them to be open the rest of the way by tomorrow.
One thing I'm mildly concerned about: she never fills her crop when she eats. She'll gape and enthusiastically eat a few bites, then stop. I can't keep feeding her once she stops gaping, but I wonder if she's gotten enough. Time will tell, I suppose.
For nighttime accommodations, I have cleared a place in one of my closets so she won't be a temptation to my kitty.
John replied: As long as her tummy is nice and round and she doesn't appear to be losing weight and becoming "all head" then you are likely okay.
Cool. Her tummy is plump as can be!
John replied: As long as her tummy is nice and round and she doesn't appear to be losing weight and becoming "all head" then you are likely okay.
Monday, May 8, 2000
Morning
The baby made it safely through the night and is still alive and well. I gave her her first feeding at about 5:15 a.m. I have discovered that the easiest way to feed this tyke is to use my pinkie. The syringe is too complicated and I'm afraid to use the tweezers because they're kind of sharp on the end. I might use the tweezers for the grubs, though. Maybe I'll "doctor them up" a little by putting some tape at the ends so they're not so sharp!
I'm having a bad feeling and I don't know why, but it has to do with the starlings and school today. I hope everything goes smoothly and that Mrs. Wolf (note: Mrs. Wolf [pseudonym] was the master teacher in the classroom where I was student teaching) doesn't object!! Man, I do NOT like it when I get these feelings…
Evening
John wrote: Well, you starling keeper, how did it go today??
Would ya gimme a minute??? Haha. Just taking a quick breather from all that feeding and changing, but it's just a QUICK breather…I've got lots to do so I'll try and write more later. Went well today and the bird is still alive and well. Details to follow…
John replied: NO! NOT A MOMENTS REST! Heh, you frazzled Mama Starling, you!!
(With friends like that, who needs enemies, right?)
Well, when I introduced Mrs. Wolf to "the kid," she was a little taken aback, but she accepted her quite readily and even said she was really cute. She is nervous, though, because of past negative experiences she's had with baby birds (trying to take care of them and then having them die, etc). She said that all she asks is that I don't give the children all kinds of hopes about the bird because they would be devastated if a bird died.
I didn't call any attention to the bird at all, but there were a couple of times that I had to feed her while the children were in the room, so I got a curious group of onlookers there both times. I think I'll bring her out for kids to see tomorrow. I'll briefly explain a little about her and outline my expectations (baby is OFF LIMITS!). Then I'll let a few kids at a time come to see the bird each day as I feed her. That way the class can observe her growth and development.
I still haven't decided on a good name for this tyke; I'm thinking "Screech" or "Starla." I dunno.
The baby eats very enthusiastically. This evening she ate a lot and now she won't eat any more; I believe she is done for the day. I have put her to bed. We'll see how she is tomorrow morning. My feeding method is simple and seems to work fine: I have a little container of pre-mixed formula which I feed her and I store it on the heating pad next to her box. That way the food stays warm! It works very well. I make the food thicker than the pamphlet says to. I feed it to her on my pinkie finger–that seems to work better than anything else.
By the way, don't forget that Mother's Day is coming up!!! Hahaha…!
John asked: Has she been gaping pretty enthusiastically, and like standing up as high as possible, or is it kind of "half hearted"?
Quite enthusiastic!
Tuesday, May 9, 2000
You know that premonition I had regarding the bird and school? Well…I got a little chewed out today. Mrs. Wolf said she questioned my decision to bring the bird to school. Hmmm…ouch.
Well, I hope it doesn't continue to bug her too much because I certainly am not going to leave her home to starve to death!
My feeding method is simple and seems to work fine: I have a little container of pre-mixed formula which I feed her and I store it on the heating pad next to her box. That way the food stays warm!
On to cheerier things: "the kid" is doing well. She has open eyes now, and is getting some real definite feather stubs. She is very responsive to humans.
Thursday, May 11, 2000
"The kid" is really doing well! Today I have begun to vary her diet somewhat with soaked parrot pellets and chopped earthworms (ew, disgusting!). I took a container of worms to school but decided against feeding them there because I figured that just might be pushing it a little too far with Mrs. Wolf. Hahahahaha! I fed her the worms when I got back awhile ago and she really went for them!
Last night I was a little worried because she was breathing hard, but now she is just fine. Man, she is SO CUTE!!!! I just love her to pieces already. She's really starting to grow some nice chest feathers and is so soft! Tonight, among the other many things I have to do, I'm going to add some stuff to the baby's nest for her to grasp (some thick grass).
Sunday, May 14, 2000
I transferred Stella to a cage awhile ago and she is doing just great. I'll need to get more earthworms soon! I'm down to the last container now.
Back to 2015…
Well I hope you enjoyed that little peek into May of 2000! I'll share more stories and photos from the past in another post.
Photo credit: audreyjm529, Flickr
Did you know I write books?
Just sign up below for free excerpts and updates about my latest book!