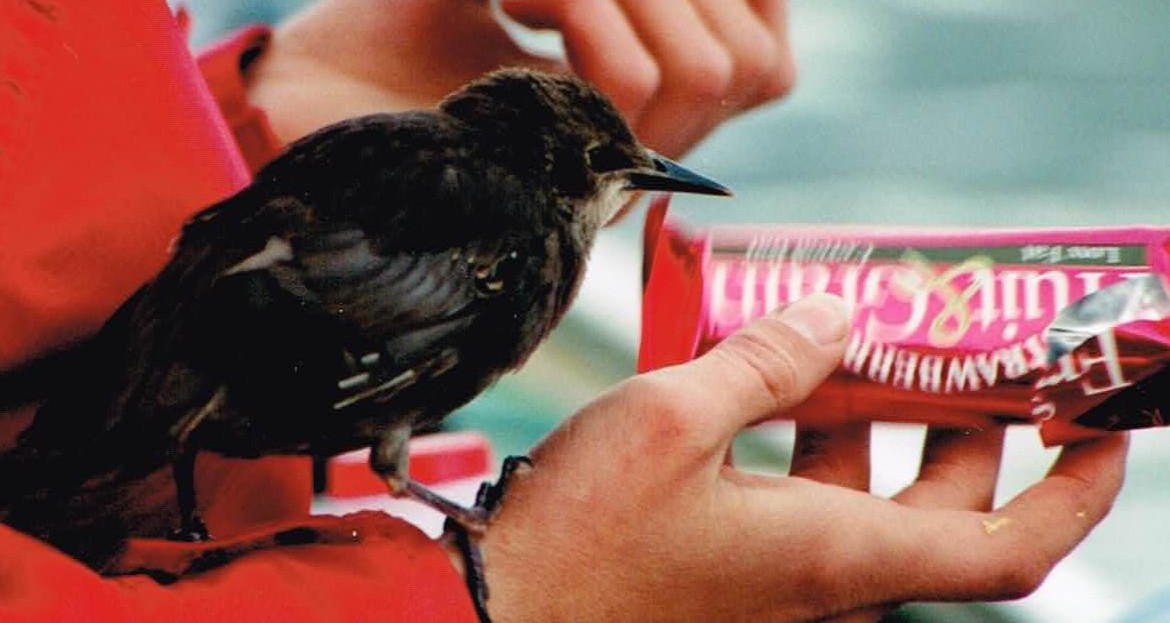 The Stella Diaries: Final Weeks
Monday, June 19, 2000
I am playing a CD of 50 bird songs. You should see my birds! Stella is listening intently–I can see how she would start imitating them if she heard them enough. I'll have to record some of these onto the tape over and over and over! I'll just pick the ones I like best… I'm going to see if I can get my boombox to work. My canaries are singing up a storm! They're pretty enchanted with the tape, too, I guess! My finches are a lot more talkative, too! Sounds like a jungle in here.
Tuesday, June 20, 2000
I took Stella out for our daily thing this afternoon and she had a real ball! We stayed out for a long time exploring different areas behind the apartments back here. I found another starling nest (in a hole in a wall) and a bee's nest (in another hole just a few feet away!). I picked up all kinds of "toys" for Stella and found some flowers, too, which I brought home and pressed. I found a wonderful tree for Stella to hop around in. She loves it! It is so neat; I put her on the tree and pointed to different branches and she always hops where I tell her to. She hopped up to a branch out of my reach and explored for a little bit, but when I called her she came right back to me. She gets really worried if it looks like I'm going to leave without her! She's very loyal–sometimes almost TOO clingy! Haha! Next time you come out here I'll have to take you back to that tree so you can watch her. It's so cute! Stella has had 2 baths today, too. What a spoiled bird!
Sunday, June 25, 2000
Today we had a great outing! Perfect day and everything. Have you been to Bonny Lake before? You paddle up this long channel through reeds, tall grass, and other water plants (and see a lot of awesome birds in the process–mostly red-wing blackbirds and yellow-headed black birds, but several other kinds as well–Corinne and I saw a cute little baby red-wing!), then on the lake–a very long lake–there is a neat island, which we hiked around on. Some of us saw a duck nest with 7 eggs in it! Of course I took Stella along! Corinne and I paddled in a 2-man kayak, so Stella rode in one of the canoes for part of the trip, but she was on my lap for part of it, too. And of course on the shore she was always out exploring.
She gets really worried if it looks like I'm going to leave without her!
NOTE: I can't find any written accounts of my time with Stella between June 25 and July 13, but I know that for several days we were out of state for my grandfather's funeral. John took Stella while I traveled. Stella also learned to imitate the songs of my finches and canaries during this period. I went on another camping and canoeing trip with John and many other friends during that time, and that's when Stella flew into the water and almost drowned (read Stella the Starling for a pretty close account of what actually happened)! This picture of Stella playing with the daisy was taken during that trip:
Thursday, July 13, 2000
NOTE: I drove down to my parent's house with Stella to wash some laundry, and took my bird outside to play with me. The cherry tree in our yard had produced some juicy fruits, which Stella picked at happily. After awhile, she paused to watch some other birds fly overhead. Then she leaped into the air, and followed them away.
I called and called, but Stella never came back. Heartbroken, I wrote to my friend and told him what had happened. Unfortunately I can't find that e-mail anywhere, but here was his reply:
John's reply: I am so very sorry! Do you even know the proximity in which she was? She couldn't have flown very far, as in miles and miles away! Try to stay there the night and do a lot of searching in the morning, when she is hungry. Oh how awful. I am so sorry. I almost feel guilty for not clipping her wings while I had her, but you had mentioned so much about not wanting to restrict her freedom that I decided not to do it. She can really fly FAR now. You may want to post some "missing starling" signs in the area. People wouldn't mistake her if she came right up to them. I do hope she stays up and out of the cats way. Will be praying that you find her. How incredibly awful! I was really concerned that I'd lost her on our walk. She was totally content to ride on my shoulder the whole way but then when I decided to see how far she could fly, up into the tree she went and refused to come down and I clambered up, made her fly down to the ground, and when I got down, she was nowhere to be seen. That really worried me, and it was getting dark. I called and called and finally saw her flying from one thorny bush to another and it took major coaxing to get her back. She is certainly exerting her independence.
My response: Hi, John.
Don't feel guilty about not clipping her wings! You took great care of her and I appreciate you leaving the decision up to me. You did warn me about it. I didn't like the whole idea of keeping a wild bird from flying–it didn't seem right–but now I wish I'd clipped those wings and forgotten about the ethics of it! ARG! I can't believe I didn't just CLIP those wings! I'm kind of torn between anger at myself and grief of her loss.
Well, I am back home now–didn't get your message in time about staying the night, although I checked my e-mail before I left. I didn't think about the fact that she might come back in the morning simply out of hunger! But my mom gets up early and checks her e-mail first thing; I'm going to write to her and ask her to look for Stella right away. I left Stella's cage out with the door open and some food and water inside. If she flies by she'll associate the cage with her food and hopefully stop in to eat. I asked my family members to check the cage often for signs that she'd been there.
Ok, I'm going to bed pretty quick here. I'll call the family first thing in the morning and see about any signs of Stella. I miss her so much already! Some pets are just pets and some you bond with, ya know? Goodnight!
Friday, July 14, 2000
I got up at 4 a.m. this morning (after going to bed after midnight) and drove back to my parents' place so I could look for Stella at sunrise. No sign of her anywhere! :'-( I want to cry every time I think about it; this whole thing just makes me sick. WHY do I have to get so attached to my pets????
…and that's the story of my Stella. As you have seen, it was very hard for me to see her go, even though I knew that I didn't feel right restricting her freedom as a wild bird. I like to hope that I raised Stella to be independent enough that she went on to live a happy and free life with her fellow birds.
Would I do it again today? I don't know! I really enjoyed having a pet starling, and it's perfectly legal to do so. However, it also takes a tremendous amount of work and dedication to properly care for them. And if you don't keep their wings clipped, they might fly away and break your heart. Overall, I think parent birds do the best job of raising their babies. These days, if I find a baby bird outside its nest, I put it back where the parents can raise it the way it was meant to be raised, and I encourage others to do the same!
Would I do it again today? I don't know! I really enjoyed having a pet starling, and it's perfectly legal to do so.
Did you know I write books?
Just sign up below for free excerpts and updates about my latest book!