Mexican Spanish vs. Ecuadorian Spanish
I learned Spanish in Mexico as a kid. My command of the language is a little rusty but quite good. Nevertheless, in Loja I learned all kinds of new words—or new meanings for previously known words. Here are some examples:
Sapote
In Mexico, this is a very soft, tropical fruit with thin olive-green skin and a dark brown mushy flesh. In Australia I discovered that the English name for these is "chocolate fruit." They do look a bit dark-chocolate-pudding-like inside, but don't taste like chocolate at all to me.
In Ecuador, however, the sapote is about the same size and color, but firm on the outside and resembling a miniature green coconut. Inside the flesh is a bright orange with a flavor and texture a bit like a mango. It has several large pits inside.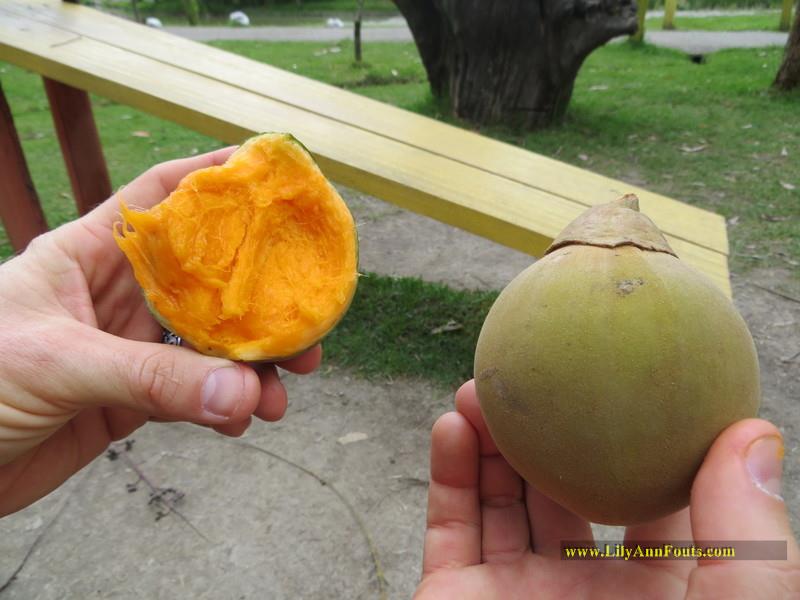 Tomate
In some places in Mexico—including the region where I grew up, tomatoes are usually called "jitomates"—whereas the tomate referred to the green tomato, or tomatillo. In Ecuador it can either refer to regular red tomatoes, or to the tomate dulce which looks a little more like a passion fruit on the outside, but like a tomato inside: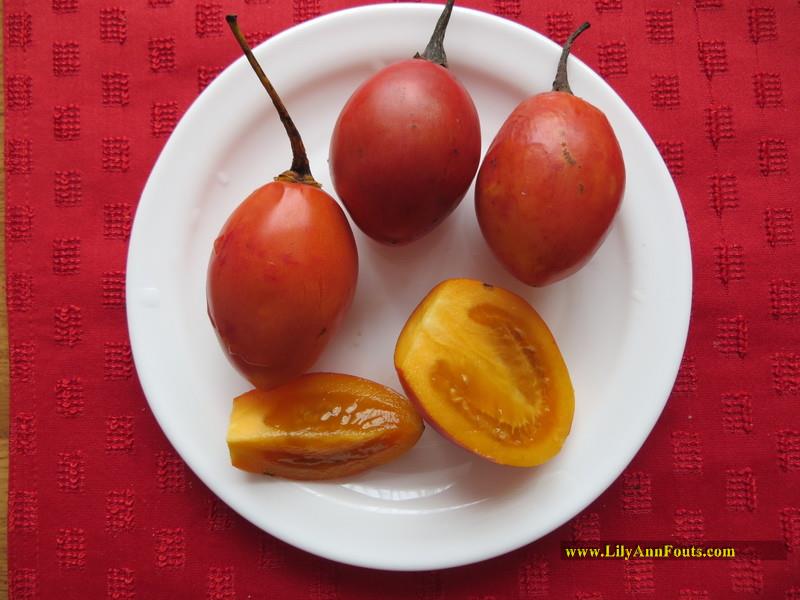 They sell a jugo de tomate (juice) in many places, and at first we thought it would be tomato juice—something like V8. Then we discovered it is actually a fruit juice from the tomate dulce.  It has a flavor similar to a not-quite-ripe guava.
Plátano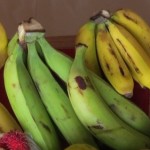 In Mexico, these are your average bananas. In Ecuador they are the big plantain bananas—what they call "plátano macho" in Mexico. Regular sweet fruity bananas are called guineos in Ecuador. Confusingly, though, they also seem to refer to the plantains as guineos sometimes, so I'm going to have to find somebody to explain this to me.
Horchata
When Keith ordered this with his meal one night, we expected a milky rice and cinnamon drink, which is what we receive when we order horchata in Mexico and now, increasingly, in the U.S.
Instead, he received a glass of what looked like pink lemonade with a very slight slimy texture (which turned out to be added aloe juice).
It had a unique flavor, very pleasant and refreshing. Horchata in Ecuador is a drink made out of various aromatic herbs—a little like hibiscus. Delicious, but completely different from Mexican horchata. CLICK HERE for a recipe if you'd like to try making it yourself (good luck finding the herbal mix in the U.S. though–definitely leave me a comment below if you know where to get it)!
Tostada
In Mexico, this would be a flat, crispy fried tortilla with beans or meat, finely chopped lettuce or cabbage, salsa, cheese and cream on top (yum).
In Ecuador I saw it on a menu and thought, "Wow, they have tostadas here–cool!"  But what came out was a grilled cheese sandwich, which is also called "prensado de queso" in some places. It is made with their fresh queso (cheese), which is one thing that is similar to Mexico. (I didn't see any American-style cheeses there, and they were hard to find in Mexico too—at least when we lived there 25 years ago.)
Tortilla
In Mexico these were round, flat, very flexible receptacles for all kinds of fillings, and usually made of corn and sometimes from wheat. They are used to make tacos, enchiladas, and many other things.
Not so in Ecuador. There a tortilla is a corn cake that looks like a large, thick, stiff pancake. Sometimes it has cheese in it.  It's delicious, but not rollable!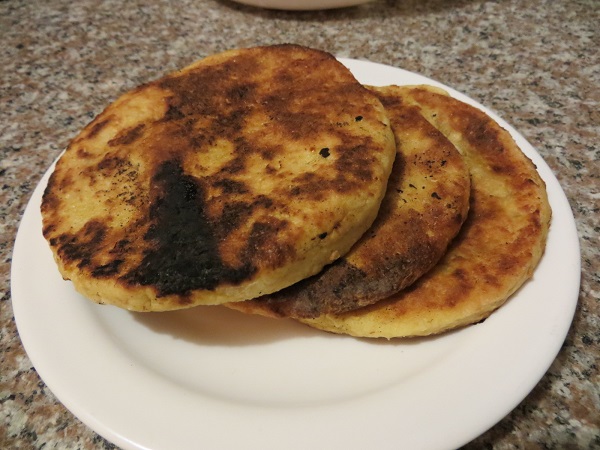 Arvejas or Chícharos?
In Mexico, peas are chícharos. In Ecuador they are arvejas.
I encountered many other differences, and I'm sure there are dozens or hundreds more, which we will discover on future trips to Ecuador. I've just recently finished my book about Loja, Ecuador and have been dreaming of returning asap. I miss it there!
If you speak Spanish, you may enjoy these articles about the Spanish in Ecuador, as well as Spanish words unique to Loja, called Lojanismos:
Learn the Joys of Living Like a Local!
Enter your name and e-mail for updates on Loja and Ecuador!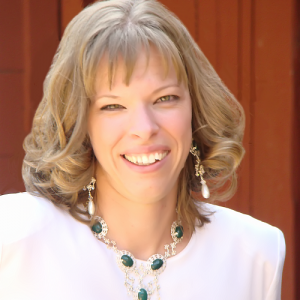 My husband and I are nomads, having lived in over a dozen U.S. states, plus Mexico, Antarctica, and Ecuador. I write. I recently released the 2nd edition of my 2nd book, "Live Like a Local in Loja," and I'm looking for a publisher for my third book, "Seven Years Running"--the true story of my fugitive childhood.