Welcome to the companion website to my Loja book:
Living Like a Local in Loja
Don't have the book yet? CLICK HERE to learn more about it, or click the button below to get it instantly!
Click Each Chapter Title to Jump to That Section:
Chapter 1 – The Treasure Between Cuenca and Vilcabamba
Chapter 2 – Growing Up in Latin America
Chapter 3 – Getting to Know Loja
Chapter 4 – Learning Spanish
Chapter 5 – Arriving in Loja and Finding Your Way Around
Chapter 6 – Eating and Shopping
Chapter 7 – Setting Up House
Chapter 8 – Things to Do in Loja
Chapter 9 – Making Friends
Chapter 10 – Culture Clashes
Chapter 11 – Vilcabamba
Chapter 12 – Cuenca
Chapter 13- Other Towns Near Loja
Chapter 14 – Let the Adventure Begin!
Chapter 15 – Let the Adventure Begin!
Other Resources
Introduction
An interview I gave on the Expat Kingdom Podcast about Loja:
A look at the rising number of North Americans moving to Ecuador:
---
---
Chapter 1 – The Treasure Between Cuenca and Vilcabamba
Loja, Ecuador Wikipedia page
As an expat in Ecuador, will you set yourself up to be a winner or a loser? Refer to Chapter One in the book for a discussion of how to be a winner in the expat world.
---
---
Chapter 2 – Growing Up in Latin America
More of my story:
Seven Years Running – our book in progress about the experience of living on the run
Blog post – Kidnapped and Hiding in Mexico
Interview on Becoming an Expat Podcast where I spoke about life on the run (and more!)
Interview on Abroad Podcast where I talked about my fugitive childhood, plus the experience of working in Antarctica as an adult.
TCK resources:
Definitely check these out if you plan to move abroad with kids:
Book: Third Culture Kids: Growing Up Among Worlds
Websites:
Magazines:
Among Worlds Magazine for adult TCKs
---
---
Chapter 3 – Getting to Know Loja
Extremely informative new websites about Loja:
Touristic Video of the City and Province of Loja (in Spanish):
---
---
Chapter 4 – Learning Spanish
Places to find people to practice your Spanish with before moving abroad:
Spanish Pronunciation
Pronunciation of the Vowels
Pronunciation of the Consonants
Rules for Accent Marks (or where to place the stress/emphasis on a word)
Greetings and Goodbyes
Learn the Spanish Numbers
Video of Spanish Numbers 1-20:
Useful Spanish Phrases
Use Spanish travel phrase books to learn the most common phrases you need to know to get started. If there are phrases you need to be able to say and can't find them in your phrase book, try these resources for translation:
Fiverr.com (<– Use this link for a free $5 gig)
Top 1,000 Spanish Words
Top 1,000 Spanish Words (along with their pronunciation and English meanings)
Flashcards can be a great way to learn new vocabulary in Spanish. Anki is widely used and recommended by the language learning experts. Here are links to the various versions:
AnkiMobile Flashcards for iOS devices
AnkiDroid Flashcards for Androids
Anki computer version
Fill-in-the-Blank Spanish Formulas
See the book for an explanation of how to use these cheat sheets:
Esto Phrases (PDF Download)
DINA phrases (PDF Download)
Grammar
Recommended books – with links to Amazon:
Practice Makes Perfect: Spanish Pronouns and Prepositions
Practice Makes Perfect: The Spanish Subjunctive Up Close
Practice Makes Perfect: Advanced Spanish Grammar
For the Advanced Spanish Speakers
Lojanismos – Or expressions characteristic of the region of Loja
A list of "Lojanismos" – expressions unique to Loja
A list of Ecuadorian expressions/slang
Diferencias entre un amigo normal y uno ecuatoriano (Humorous Spanish article about the differences between a normal friend and an Ecuadorian friend)
Recommended Resources
Fluent in 3 Months, by Benny Lewis. This is the best book I have ever read on language learning (and I've read quite a few as a former language teacher). Though it is not specifically about learning Spanish, it gives some great principles for language learning in general and does have special sections dedicated to specific languages, including Spanish. Highly recommended. Benny Lewis also has a great blog at fluentin3months.com.
Duolingo. These free online language lessons are actually quite good! I've been through of the French levels and was quite impressed. Check it out.
Memrise. Here are the links to the mobile versions: Memrise for iOS devices/Memrise for Android devices
---
---
Chapter 5 – Arriving in Loja and Finding Your Way Around
Bus Station – Terminal Terrestre Reina del Cisne
Bus Schedule for Ecuador and other South American Countries: LatinBus.com
AirBnB places to rent in Loja
NOTE: If you are new to AirBnB, CLICK HERE to use my referral link for a $25.00 credit.
1 Bedroom Townhouse, fully furnished, $20/night or $375/month
Studio apartment, fully furnished, $20/night or $300/month
Efficiency apartment, fully furnished, $20/night or $300/month
Other options in Loja, Malacatos and Vilcabamba HERE.
If all else fails and you want to book ahead of your arrival, there are several places listed on booking.com. Just make sure you are booking in the city of Loja, not a different town in the Province of Loja.
Maps of Loja
Click here for a good map with important sites marked.
Map of the Neighborhoods of Loja – primarily on the outskirts of town. Some trails are also marked. (PDF Download)
---
---
Chapter 6 – Eating and Shopping
Eating
Some restaurants recommended by local friends:
Mama Lola, Av. Salvador Bustamante Celi y Santa Rosa (on the corner, Sector El Valle), 07-261-4381. Highly recommended for its traditional dishes from Loja.
Tamal Lojano, on 18 de Noviembre and Imbabura in front of Parque Bolívar – with another branch in a building on 24 de Mayo between Mercadillo and Azuay 7-258-0506
Shopping
Article on health food stores in Loja area.
Loja health food store: Alivinatu
---
---
Chapter 7 – Setting Up House
Classifieds sites to look for long-term housing:
http://casas.mitula.ec/casas/arriendo-departamentos-casas-loja
http://www.alamaula.ec/l/departamentos-loja/S35P5011
Are you thinking of buying property and building a house in Ecuador? Recommended reading:
Our House in the Clouds: Building a Second Life in the Andes of Ecuador
If you plan to set up house in Loja for awhile and are still learning Spanish, here are some recommended resources for translation and more:
Diana possesses a wealth of information about the area and is now creating the Loja Services Collective with the aim of providing needed services to visitors as well as expats in the city of Loja. She was instrumental in providing some of the information found in the book. Click here to visit the Loja Services Collective website.
Diana also administers a very useful Facebook group: Loja, Ecuador for English Speakers. Join the group and use the search function to find answers to all the most common questions. If you don't find an answer that way, ask your question in the group and you're likely to receive a helpful response soon!
Another useful Facebook page is the Loja Expat Exchange.
Contact Adriana "Adri" Alarcón at adrialarconloja84 (@) gmail (.) com to arrange Spanish lessons, translation/interpretation services (finding a house, setting up utilities and cell phone service, etc), and help with cultural questions. (NOTE: Adri is currently traveling abroad for a few months but you can connect with her to find out when she will be available again.)
Resources in Loja – Schools, Hospitals, Banks, etc. (Spanish page)
For medical needs, I've seen Clínica San Augustín recommended more than once. They are a hospital and have a full lab and emergency room and doctors for many specialties.
For banks, one expat recommends Banco Pichincha. He says, "I have a savings account and have everything (TV, Internet, mobile service, IESS) all on direct autopay. They are full service and have been easy to work with. They don't charge me to cash/deposit checks on my US accounts. However they don't deposit the money until they get it.
Visit the book for a comprehensive listing of utility, phone, TV and internet companies with their contact info.
Click here to order the Steri-Pen on Amazon (mentioned in the book as one way to purify your drinking water on the go).
Phone Service
Book correction: In the book I mentioned that cell phone minutes in Ecuador are "much cheaper" than they are in the U.S., but it sounds like this may actually be untrue. From the little we used our cell phone down there I may have had an inaccurate perception of the real costs, and I have since heard that it can be significantly more. The book will be updated accordingly.
Some good articles about cell phone rates and service in Ecuador:
Cell Phone Rates and Plans: Ecuador Cost of Living
How's the Cell Phone Service in Ecuador?
The two main cell phone provider websites:
Claro (Spanish)
Movistar (Spanish)
If you wish to have a high quality cell phone in Ecuador you should buy it in the U.S. and take it down with you since electronics are much more expensive down there. Click here to see the results of an Amazon search for an unlocked GSM smartphone if you'd like to shop for one before going down (if it is not an unlocked GSM phone it won't work in Ecuador!).
Furniture
If you can go to Cuenca to pick up furniture, check the For Sale listings in the Gringo Post.
Also look on OLX, which is something like Craigslist.
Car or no car?
Getting a Driver's License in Ecuador
The Ecuadorian National Transit Agency's website (Spanish)
Regarding rental cars, I have heard from several sources that they are extremely expensive. Estimates I have heard range from $65 to $90 per day with insurance. Also, if you are not familiar with driving in Ecuador, it might be best to watch other drivers for awhile before jumping behind the wheel. Buses and taxis are far cheaper and will get you most places you need to go.
One recommended driver in Loja: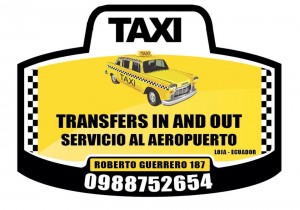 Diana Jesuroga, the administrator of the Loja, Ecuador for English Speakers Facebook group also offers services not only driving but also translating and assisting with other needs. She can be reached via e-mail at sagrada01 (@) gmail (.) com or through the Facebook page.
---
---
Chapter 8 – Things to Do in Loja
Parks
Parque Eolico Villonaco (Spanish)
Parques de Loja (Spanish article)
My blog post and photos of Loja's parks.
Hiking
NOTE: I neglected to mention Podocarpus National Park in the hiking section in the book. The section of the park just south of Loja has some beautiful trails! I will be sure to put this in the book when I update it.
Music and Entertainment
Orquesta Sinfónica de Loja (OSL) Facebook Page – see page for upcoming concerts, which are usually weekly (and free!)
At San Sebastian Park (Plaza de la Independencia) each Thursday at 8:00 p.m. there is live music put on by musicians from Loja.
Entertainment and Nightlife in Loja (Spanish Article)
Visit the Que Hay en Loja Facebook page to see upcoming events.
Touristic video of Loja (Spanish)
---
---
Chapter 9 – Making Friends
Look up classes in the classifieds: http://loja.olx.com.ec/clases-cursos-cat-876
If you enjoy active/adventurous activities, join the LojAventura group on their next outing.
Check Que Hay en Loja for upcoming events to join in on.
---
---
Chapter 10 – Culture Clashes
Ecuador – Language, Culture, Customs and Etiquette – Excellent web page on Ecuadorian culture.
Cultural Differences: Mainstream American Culture and Hispanic/Latino Culture Compared (PDF Document)
---
---
Chapter 11 – Vilcabamba
Smithsonian Article – Vilcabamba: Paradise Going Bad?
Article about the impact of foreigners on life in Vilcabamba (Spanish)
Interesting thread about Vilcabamba and Loja on the Expat Blog Forum.
El Colibrí Mexican Restaurant – located at Diego Vaca de la Vega y Valle Sagrado, Vilcabamba, has some delicious options with generous portions!
Ahuramazda Persian Restaurant – Delicious vegetarian cuisine in Vilcabamba.
Blog post and photos: Our first trip to Vilcabamba
Blog post and photos: Why I could never live in Vilcabamba
Nice video showing some scenes from Vilcabamba:
---
---
Chapter 12 – Cuenca
For all things Cuenca, visit Bryan and Dena Haines' blog for excellent information!
A video interviewing an expat from Cuenca who traveled to Loja, comparing the two cities:
---
---
Chapter 13- Other Towns Near Loja
This video (in Spanish) shows scenes from towns around the province of Loja:
Catamayo
Spanish Wikipedia page for Catamayo
Blog post & photos: Ride from Guayaquil to Loja (through Catamayo)
Touristic Video of Catamayo
---
---
Chapter 14 – Let the Adventure Begin!
A fun and happy video with lots of scenes and faces from around Loja:
Malacatos
Blog post & photos: Festivities in Malacatos
Short video of the parade we watched in Malacatos:
Zamora
Blog post & photos: Exploring Zamora (and my unwanted souvenir)
Eco-lodge for birders and nature lovers: Copalinga
Recommended birding guides:
Fieldbook of the Birds of Ecuador by McMullan and Navarrete (book)
Birds of Ecuador (iPad app)
Hummingbirds of Ecuador (iPad app)
Saraguro
Blog post & photos: Trip to Saraguro
Turismo Saraguro – Tourism page for Saraguro. The homestay with an indigenous family (24 hours, including activities and three meals) is highly recommended!
Amaluza
Blog post with videos & photos: Trip to Yacuri National Park and Amaluza
---
---
Chapter 15 – Let the Adventure Begin!
A happy video with faces and scenery from Loja:
---
---
Other Resources
Becoming an Expat: Ecuador by Shannon Enete – A great book with general information on moving to Ecuador, establishing residency, etc. Read my review here.
Ecuador Expats Facebook Page – a fantastic place to post general questions about residency, insurance, and other aspects of moving to Ecuador
---
Do you know of another Loja resource that needs to be on this page? Contact me and let me know! I will be adding more photos, videos and resources to this page, so come again!