Adventures in Africa 2012 – Part 4
Here's my final post about our 2012 trip to Africa.  If you haven't already, be sure to read about our coffee plantation tour, Kilimanjaro climb up the Lemosho route, and Safari to Tarangire, the Serengeti, and the Ngorongoro Crater national parks.  And now…the adventure continues:
Volunteering Fiasco
Sep. 25, 2012
We didn't actually manage to sleep in much, we were so used to getting up earlier.  We had breakfast, packed, and before 10:00 Mike from Stella Maris was there to pick us up.  We went to the Gladys office, then set off to walk around town.
Our first stop was the Kilimanjaro Porters Assistance Project (KPAP) office to donate some technical clothing for the porters.  Karen, the manager of KPAP, was thrilled to see us and told us that even though she didn't know us well we were her favorite hikers.  She talked to us for about an hour about her work there.  She deals with a lot of corruption.
Next stop was the ATM and some shopping.  We had agreed to meet Michael and Gladys at noon for lunch, so soon we were back at the office.  Gladys was too busy to join us, but Michael took us over to a cafe where we ordered Tanzania's interpretation of Mexican food.  Not authentic, but good anyway.  We had a really nice visit and Michael told us all about what it's like to live as an American in Tanzania.  I wouldn't mind coming back for a few months someday and learning Swahili.  It is very cheap to rent a house in Tanzania.  I could probably also find work teaching Spanish to the safari guides.  Michael paid for our lunch, which was very nice of him.
We still had some shopping to do, so we set out for that next.  Along the main road there are quite a few guys that really hound the tourists–trying to sell Kilimanjaro climbs, safari trips, or their own services as guides around town.  It's pretty annoying, and you basically have to be rude to get them to leave you alone.  My main tactic was to walk fast and ignore, ignore, ignore!
We made it to Nakumatt–a large, western-style store–and found everything else we needed.  Earlier we had also picked up a cell phone so we could more easily communicate while we were here.  We can use it in other parts of the world by simply getting a local SIM card.
We walked back to Gladys's office and caught a ride back to Stella Maris.  At check-in we asked about our volunteer work and got confused looks.  We hoped we'd figure it out by morning.
Sep. 26, 2012
I went down to the front desk early to see about the volunteer work, which was supposed to have been arranged by Gladys's office.  At the front desk, they tried to call someone about it, but got no answer.  At breakfast we met a couple of young guys–teachers from the U.S. who are working here.  We told them we were here to volunteer and that's the first they had heard of it!  So apparently the message never got passed along.
We're not allowed to do any construction work because that would take away a job from a local Tanzanian, and over the next two days the kids are in testing so it's a bad time for teaching/tutoring.  About all we can do is play with them at recess.
We went over and met them briefly at their first recess and then decided to go into town for the afternoon.  This was actually my first experience with "Swahili Time," because originally I inquired about a ride into town and was told that the driver could take us in at 8 and bring us back at 11.  Not wanting to be in town so late at night, we decided to walk instead.  Only later did it dawn on me that she meant he would pick us up at 2 and bring us back at 5 p.m.!  (In "Swahili time," the day starts when the sun comes up, at 6 a.m.–year-round, since Tanzania is on the equator–with 1:00 being the first hour after sunrise, or 7 a.m. to us.  So 8:00 "Swahili time" is actually 2 p.m. on our Western clocks.  This is very confusing for travelers!)  It's a 6 km walk from Stella Maris into town but we really needed the exercise anyway, and we took off after lunch.
Everyone seems surprised that we walked so "far," when most people ride the dala-dalas instead.   These small vans are cheap and usually very overcrowded, often with people hanging off the side of them, so it would be fun/interesting to ride one sometime.  Keith didn't quite seem up for it, though.
In town we bought some postcard stamps, a few souvenirs, and groceries, then called Mike from Stella Maris to come pick us up.  We've been making sandwiches and fruit to eat for our meals.  A bit cheaper than eating out!
Sep. 27, 2012
We joined the kids for their playtime and they seemed to really enjoy our attention.  Some of their games were familiar (soccer, jump rope, Duck-Duck-Goose) and several were new to me.  While the kids were in for testing we passed the time uploading photos to Facebook, reading, etc.  It was a fairly relaxing day, spent entirely at Stella Maris.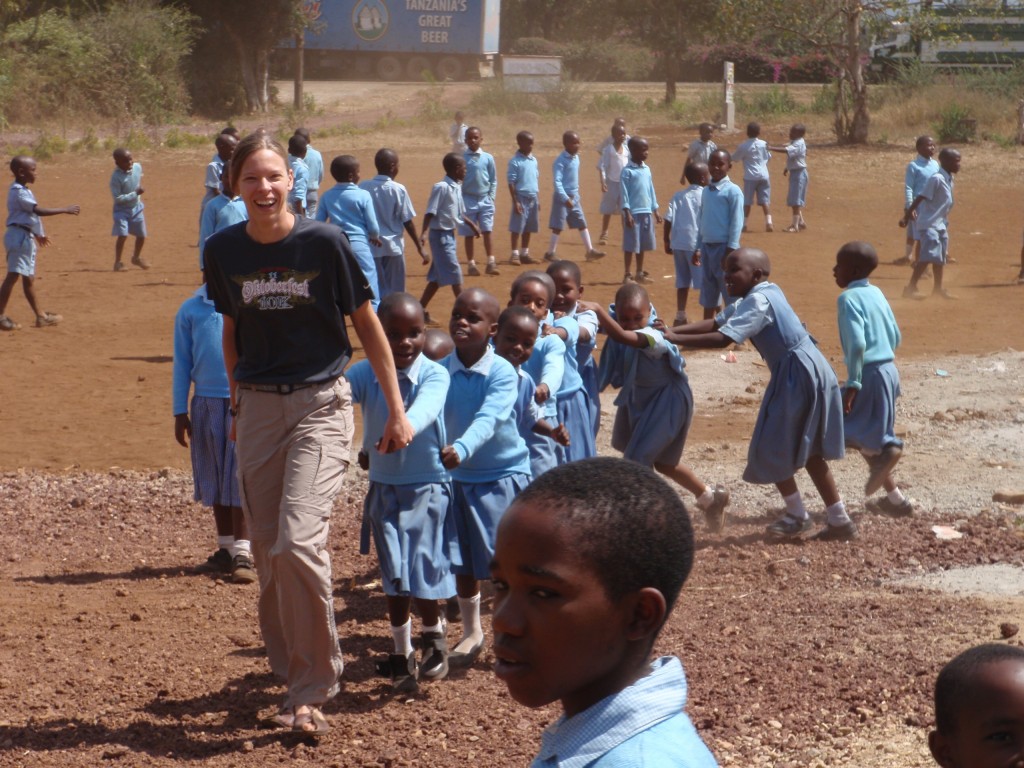 Sep. 28, 2012
Finally we got to do a little more with the kids, this morning!  A few years ago somebody had donated a projector to Stella Maris/the school, so we took that, hooked it up to one of the expat teachers' laptops, and discovered that the bulb was burned out.  Michael from Gladys Adventures was supposed to be coming over with one of their projectors and screen but he never materialized either, so the teachers arranged the children on the floor and Keith showed his South Pole pictures to them on the laptop screen.   The kids seemed enthralled anyway.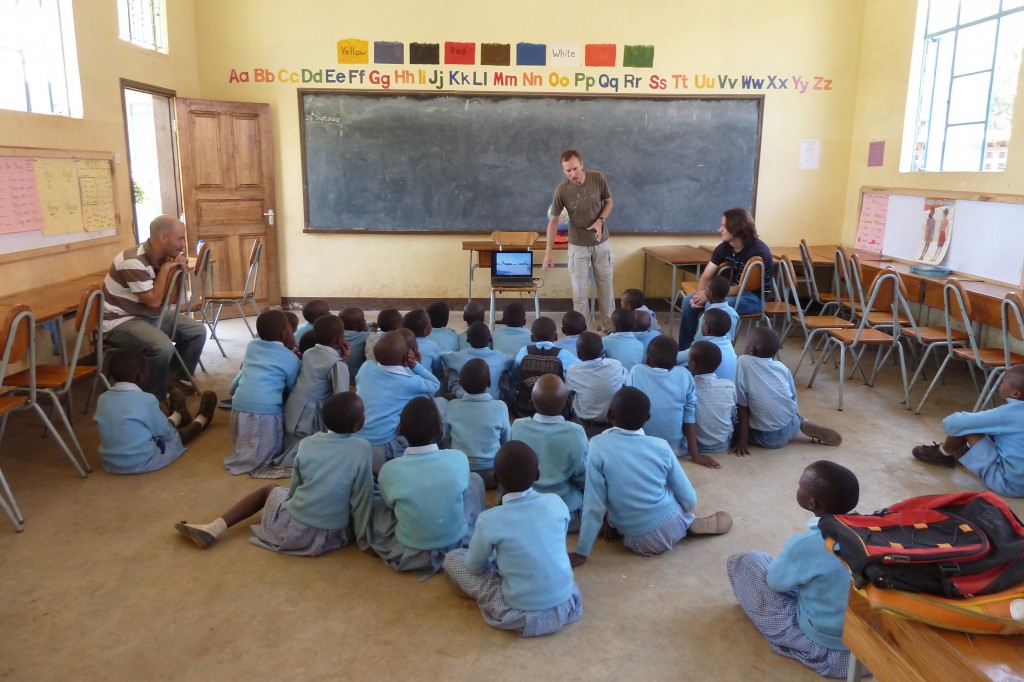 There was only one globe in the entire school, so Keith borrowed it and showed the children where the South Pole was.  We saw no maps in the school and the kids all seem to have a very poor concept of geography.  I'm not even sure they know the difference between land and ocean on the globe.  Even the adults don't seem to know where the South Pole is.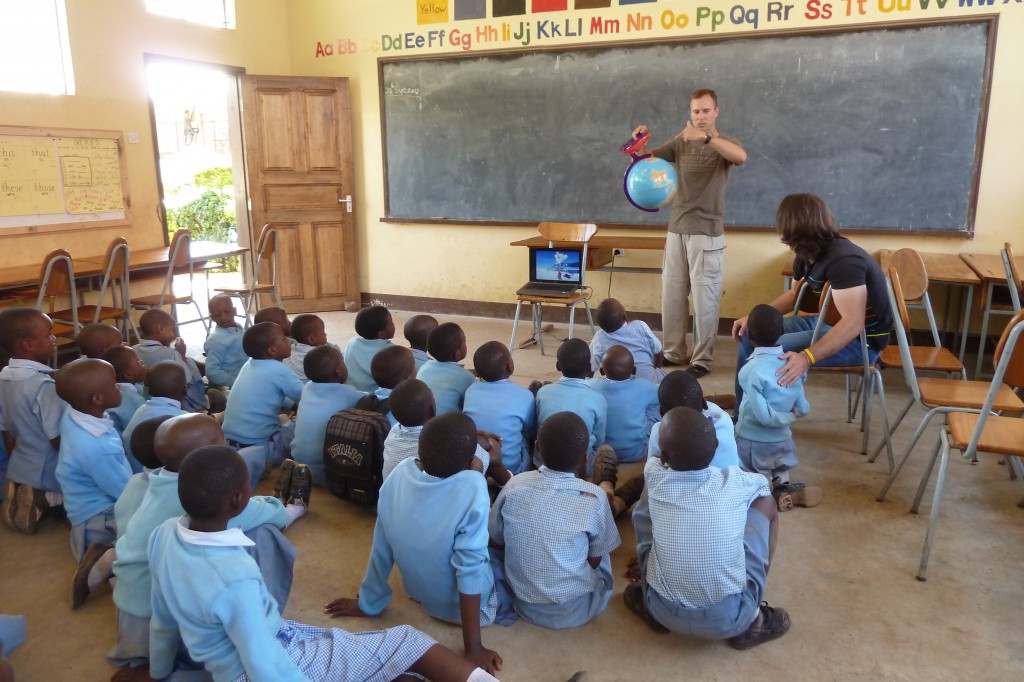 Keith gave his South Pole presentation to two groups of kids, then they all went back to their classes and we caught a ride into town to eat lunch and do a few last things.  We ate at "Indo-Italiano" which has an Indian food menu and an Italian food menu.  I had the cannelloni which was quite good.
Since the hotel internet was down we spent some time at an internet cafe, then went to the Gladys office to say goodbye to everyone.  Only Nelvin and the secretary were there, so we said goodbye to them and told them to pass along the message to the others.  I really enjoyed the level of service and friendliness we received from them, despite the initial wire transfer mix-up and the total flop on the volunteer arrangements–but in their defense, their specialty is Kili climbs and safaris, not volunteer vacations.  I'm going to miss Tanzania!
Back at Stella Maris the internet was back on, so I uploaded some safari photos, then we had supper in the hotel restaurant (curry vegetables and ugali for me; an overcooked fish for Keith) and packed our bags.  We'd be leaving early in the morning.
Kenya!
Sep. 29, 2012
We got up at 5 a.m., made ourselves some breakfast, then went downstairs to wait for the bus which was to arrive at 6:00.  Six a.m. came and went, so Keith had the hotel staffer call the bus company.  They said they'd be along in a few minutes and asked us to wait out at the road.  They eventually came along at around 6:45 and we were off.  In Arusha we had a confusing change of buses and soon we were on our way north to the border.
The lines were long at the customs office and a couple of con men tried to make me think they were border control officers (they were unconvincing), but all went smoothly and once again we were on Kenyan soil.
We had a bathroom break soon after, then continued to Nairobi.  The traffic in the city is horrid and it took quite awhile to reach the Silver Spring Hotel, where Keith's friend/former college roommate, Samir, was waiting for us.  He had his cute 5-year-old twins, Mohamed and Miriam, with him.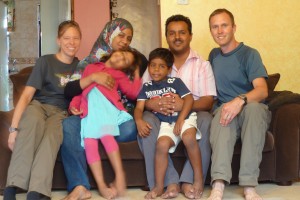 We went to eat at a nice restaurant with an impressive selection of vegetarian options.  After lunch he took us to his home and we settled into the guest bedroom and visited some more.  Soon Khadija came home and made us some traditional Arab coffee, served with sweets like baclava and dates.  Excellent.
In the evening we all went out to an excellent sushi restaurant.  They wouldn't let us pay for anything.  They're so hospitable!
Sep. 30, 2012
Samir had a flight to Cameroon and back (he's a captain for Kenya Airways), but he enlisted his younger brother, Suheil, to show us around.  Suheil is also a Kenya Airways pilot but has these days off.  He came by and picked us up at Samir's house and we start off at the Nairobi National Museum.  I loved the diversity of displays at the museum. Natural history, political history, bird displays, art, and more!   The skeleton of the famous elephant, Ahmed of Marsabit, is on display there.
The museum also has an excellent human origins section, with an amazing collection of hominid skulls.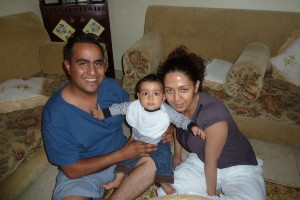 After the museum, we went to the family home where we met Suheil's wife, Zamira, and their baby.  We also got to meet Samir and Suheil's mom, an amazing woman who worked hard for her own education and for the education of her children.
Oct. 1, 2012
Suheil and Zamira took us to the David Sheldrick Wildlife Trusts' Orphans' Project the next day–this is a wildlife center where they take in orphaned elephants and rhinos and raise them and prepare them for a return to the wild.  It was so cute to see the baby elephants being bottle fed by their handlers and then enjoying a bath in the mud pool!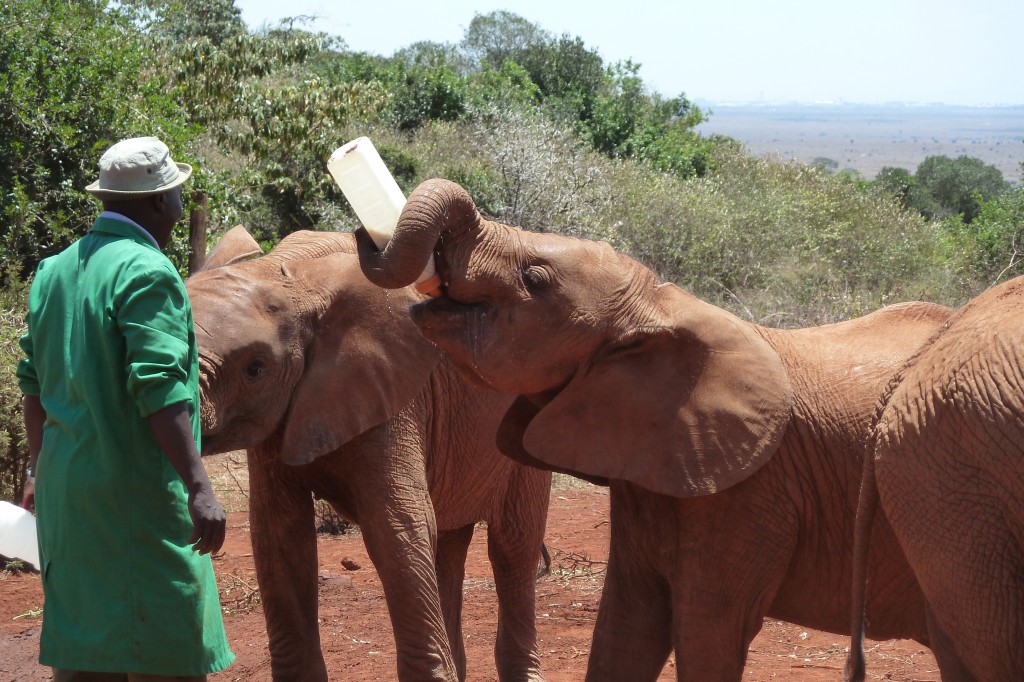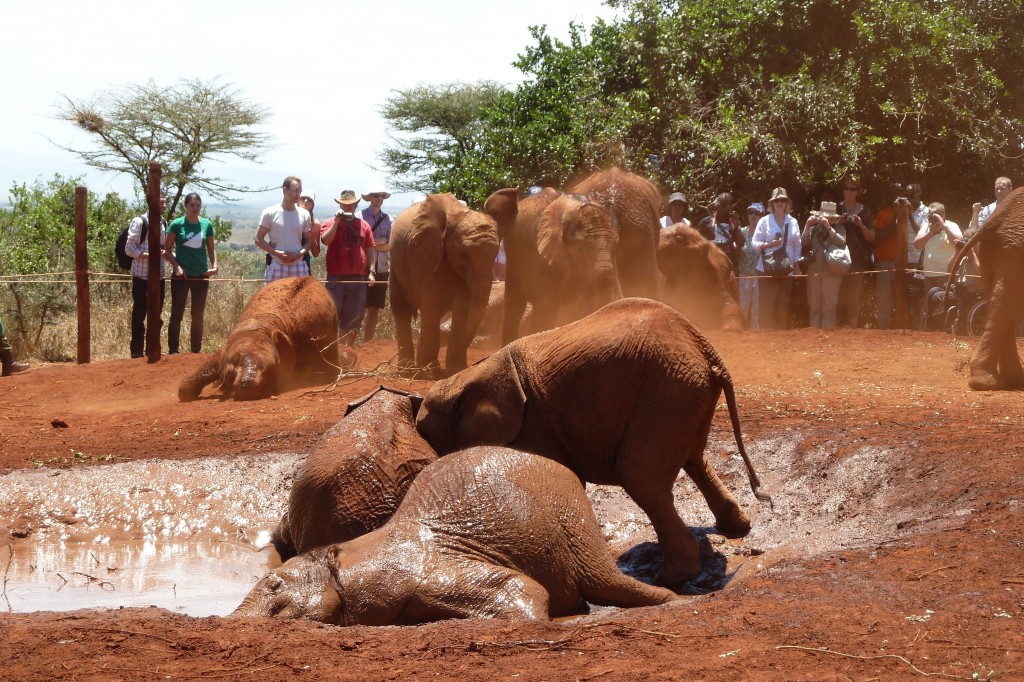 Next we went to The Giraffe Center–a breeding program for the rare Rothschild giraffe subspecies.  We got to learn all about them and feed them, too!  They are such gentle, beautiful and graceful animals!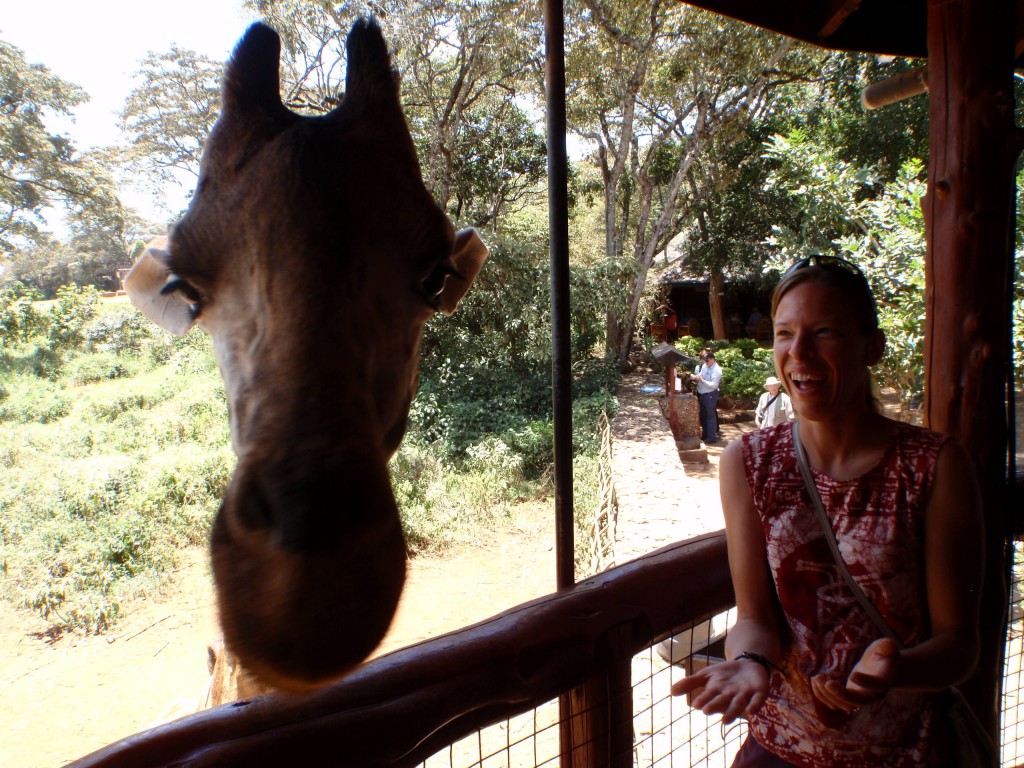 Oct. 2, 2012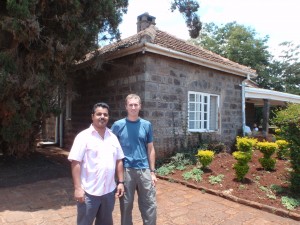 Samir made it home, and together we went to the Karen Blixen Museum (her old house). Karen Blixen, AKA Isak Dinesen, is the author of the famous book (later made into a movie), Out of Africa.*  She made Africa famous with her book, which is an interesting read.
We also visited the Kazuri Beads and Pottery Center, which is a factory that employs a lot of single moms, etc. and makes all kinds of ceramic bead jewelry, ceramic dishes, etc.  We learned about the whole process of working with ceramics–the molding, painting, glazing, firing, etc.
We picked up a few things to support the work they do (and because their stuff is really nice!).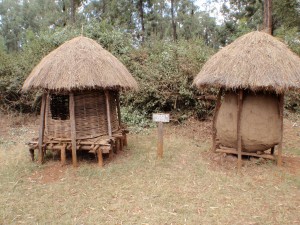 The Bomas of Kenya is a place where different traditional village replicas have been built, representing the various tribes in Kenya.  We spent some time walking around and learning about each tribe and the traditional homes they built.  They also host traditional cultural dances at the Bomas of Kenya, so we enjoyed the show.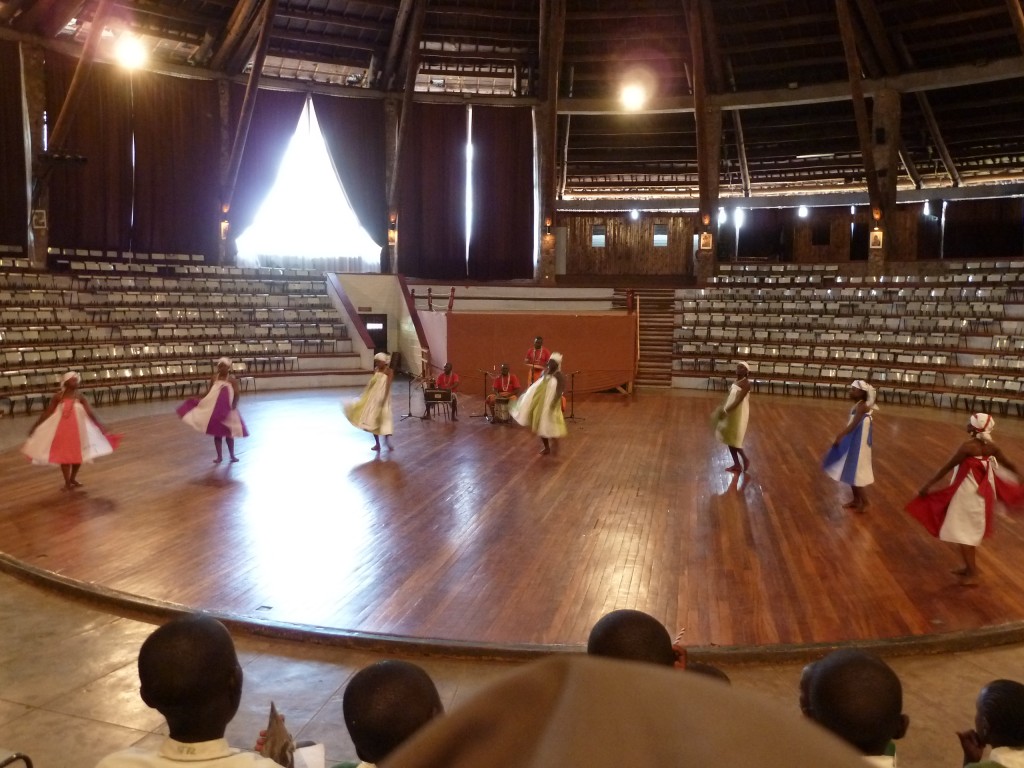 Besides these attractions we also got to see a couple of marketplaces and the mall.  Our time in Africa ended too soon, and before we knew it Samir was driving us back to the airport.  We'd be spending the next few days in England before returning to the U.S. and then flying on to New Zealand and Antarctica for work!  (But that's another post for another day!)
Samir and Khadija and the whole family were all so gracious to us; it was a real pleasure spending a few days with them and getting to see some of the attractions in Nairobi!  As always, Africa enchanted me and I look forward to returning to that great continent again!
* The links to Amazon are affiliate links–if you make a purchase I will earn a small percentage.  (Thanks for helping to support my 
new business
!)
Stay Connected from Anywhere!
Just type your name and favorite email address to receive updates on my worldwide shenanigans and favorite new projects!